Customization
So you got your site and you've gone through the Setup Wizard. What now?
Make your site stand out
A lot of the content on your website is customizable, but we did build in some constraints to keep it looking good!
You can change copy, images, calls-to-action (CTAs).
Do note that things between [brackets] are shortcode — meaning it's a universal setting set somewhere other than the page you are on. So don't remove those brackets unless you're really sure!
Your main CTA (call-to-action)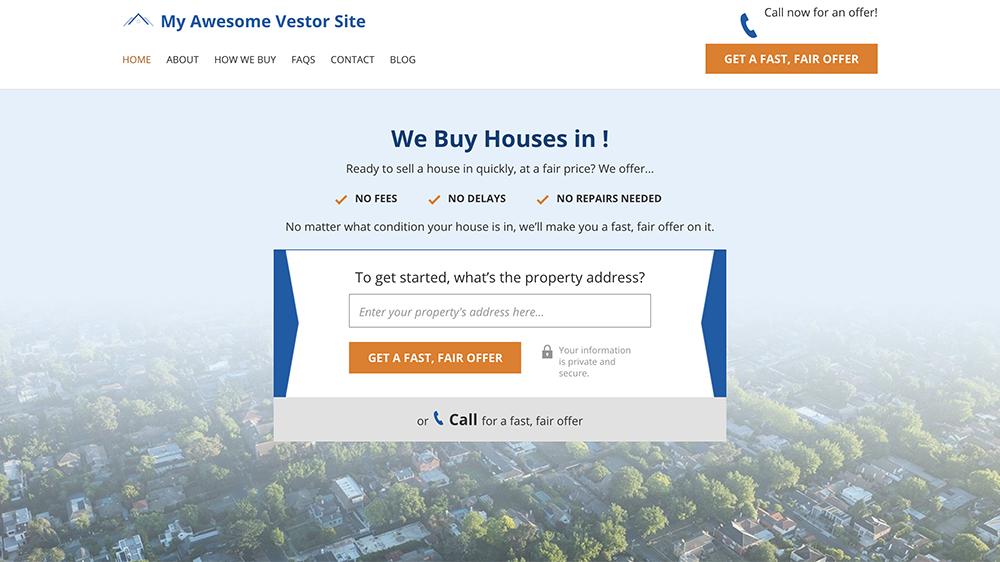 If you've gone through the Setup Wizard, all your information should be filled out here. But if you want to take it a step further and change the background image, here's how you do that:
Click Edit Page.
Once you're on the backend of the page, click on the image. It will disappear, but scroll down to where it says Background Image.
You can select from the options or upload a custom image. If you're going with a custom image, make sure it's a large, high-quality photo.
To preview the changes, just click outside of the "box" where you are currently editing. You can also click Preview in the top right and then Preview in new tab.
If you like what you see, navigate to the editing window and hit Update.
Changing images in other sections is a similar process. In some cases, you may need to hit 'X' to remove a photo and upload a new one.
Location Pages
Location pages are a way for you to get hyper-local and target the exact areas you want.
For a breakdown on how to configure those, check out this help article.
Colors
At this time, Vestor has three different color schemes available to choose. We are in the process of adding more!
If you don't like what you picked in the Setup Wizard, no problem! That can easily be changed.
About Page
The about page is a great place to personalize your site. Add some information about your company, how you got started, or how you serve your customers and community. This is also a good place to add some testimonials!
Other helpful articles
Want someone to handle it all for you?
Our in-house professionals can get you all set up in no time with our White Glove special. Schedule a call with us today so we can get you getting leads!